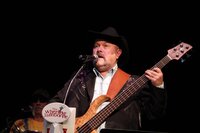 James L. Harris, Jr.
James L. Harris Jr., age 63, of Frankfort, KY, passed away peacefully on Wednesday August 17th, 2022. His brother Tim and mother Eleanor preceded him in death. He is survived by his wife Dean and his father Jim Sr. and a half sister Marilyn Foster.
Jim had a love of music. He played and traveled with many different groups such as the Christian Harvesters, Lacy and her Attitude Band, American Mountain Theatre, Lucky Enough, The Gandy Dancer and The Wheeling Jamboree. Jim loved his music and never gave up on it.
A Celebration of Life and Masonic Memorial Service will be held 11 AM on Saturday August 27, 2022 at the Buckhannon Memorial Park in Buckhannon. In lieu of flowers, donation maybe made in the honor of James Harris Jr, to the Parkinson's Foundation Fund. Online condolences maybe made to the family at www.polingstclair.com. Poling-St. Clair Funeral Home is in charge of the arrangements.