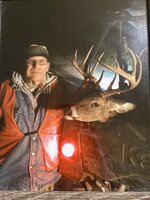 Richard Gerald McCartney
Richard McCartney, age 75, of French Creek, WV, died Saturday, November 13, 2021, at St. Joseph's Hospital in Buckhannon, WV. He was born January 20, 1946, in Buckhannon, a son of the late Trexel and Geraldine Burr McCartney. On March 12, 1965, he married Diana Tenney who survives. Also surviving are one son,
Richard Gene McCartney and wife Tona of French Creek; one grandson, Matthew McCartney and wife Sarah of French Creek and two great-grandsons, Hunter and Trapper McCartney both of French Creek. Mr. McCartney was a logger, farmer and a member
of the ABA Bow Club. Friends will be received for a graveside service Tuesday, November 16, 2021, at 11 AM in the Big Bend Cemetery in Sago, WV with Rev. Wease L. Day officiating. Burial will follow. Online condolences may be made to the family at www.polingstclair.com. Poling-St. Clair Funeral Home is in charge of
the arrangements.