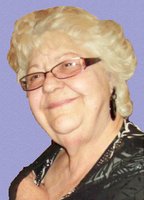 Linda Tenney Hinzman
Linda Tenney Hinzman, age 72, of Buckhannon, WV died Tuesday, March 6, 2018 at her home in Buckhannon. She was born July 27, 1945 in Upshur County, WV, a daughter of the late Denley Tenney and Anna Mae Tenney Currence. On July 4, 1992 she married Arnold Hinzman who survives. In addition to her husband she is survived by one daughter, Sandra Small and husband David of Buckhannon; four grandsons, Joshua Allen Small and girlfriend Savannah Lawrence, Brandon Lee Small and girlfriend Sasha Moore all of Buckhannon, Matthew Wright of Fairmont, WV and Zackary Thompson of Romney, WV; one granddaughter, Cecilia Wardrick of Buckhannon; one great-grandson, Valley Creed Small of Buckhannon; several brothers and sisters, Debra Lee and husband Ellis of Buckhannon, Connie Norman of Buckhannon, Rick Tenney and wife Shirley of Buckhannon, Lea Ann Tomey and husband Robert of Sago, WV, Randy Tenney and wife Sandy of Tallmansville, WV, Lana Cutright and husband Boyd of Hacker Valley, WV, Lois Dianne Tenney and husband Ivan of Buckhannon, Rick Currence and wife Virginia Diane of Hodgesville, WV, David Currence and wife Brenda of Volga, WV, Stella Wright and husband Mark of Buckhannon, and Zella Cogar of Hacker Valley; special aunt, Martha Cochran of Buckhannon; special life long friend Patti Hewitt of Buckhannon; several nieces and nephews and her beloved dog Miss Lucy Mae. In addition to her parents she was preceded in death by two infant daughters, Sarah Jane and Sabrina Louise Wilfong; infant brothers, Dexel Currence and Howard (Butch) Tenney; infant sister Shelia Marie Tenney and two nephews. Linda was a graduate of Buckhannon-Upshur High School, Class of 1963. She worked serval jobs before retiring from the Senior Center of Buckhannon after 25 years of service. Her life goal was to always be able to help others in need and her passion was auction sales and her flower gardens. Friends will be received at the Poling-St. Clair Funeral Home Saturday, March 10, 2018 from 10 AM to 12 noon, the funeral hour with Pastor Jeff Cochran officiating. Burial will follow in the Buckhannon Memorial Park in Buckhannon. Online condolences may be made to the family at www.polingstclair.com. Poling-St. Clair Funeral Home is in charge of the arrangements.
The funeral will be recorded with a live broadcast.
The service will begin approximately 12 Noon Saturday, March 10, 2018.